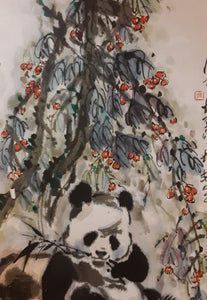 Panda painting by the accomplished Chinese artist Wang Jun (王军).

Dimensions: 20 ½ in. x 13 ¼ in. (52 cm x 33.5 cm)
Please note: The appraisal and information provided here regarding this artwork reflect MARSCLOUD, INC.'s best research ability. Art history and art appraisal are subjective fields in which specialists may hold varying opinions on a particular artwork. Potential buyer is encouraged to make an appointment to come evaluate this artwork for himself/herself in Manassas, Virginia before purchasing this artwork. Sale of this artwork is final (as is).
For inquires and appointment: marscloud5000@gmail.com or (571) 212-2779
Thank you!